Ayia Napa Marina: Berthing, boat storage and high-quality services at the state-of-the-art marina, with 30% discount for 2021
With its strategic geographical location, Ayia Napa Marina stands as an official port of entry in the Republic of Cyprus, and it is the only ISO 13687-1 certified marina on the island. It is also worth noting that since February 2021, it can accommodate large cruise ships and superyachts.
Ayia Napa Marina combines high quality services in accordance with the most modern luxury marina standards. Designed to fully accommodate the needs of boat owners of all kinds – from jet skis to 85 meters superyachts – Ayia Napa Marina also offers a Dry Stack storage facility, a fully equipped boat maintenance area, berthing services, as well as specially designed spaces for passengers and crew. Currently, the marina can safely accommodate 300 boats of up to 85 meters in length, while also providing storage services for 160 small boats of up to 10 meters in the Dry Stack, as well as 80 spaces in the Boat Yard.
The hauling and launching of boats to and from the Boat Yard and Dry Stack are based on the three pillars of Knowledge, Quality and Speed, offering innovative, hassle-free services to boat owners. Via the dedicated "ADIMARINE" mobile application, specifically designed for Ayia Napa Marina, boat owners can send their requests to the Marina Control Room from their mobile phone.
The Boat Yard offers an extensive range of high-level professional marine services such as cleaning, dyeing, and repairing systems. The travel hoist crane, which is ideal for large boats, can lift yachts of up to 36 meters and 150 tons, while the negative forklift can lift boats of up to 10 tons and 10 meters, rendering the services provided unique in the wider Eastern Mediterranean region.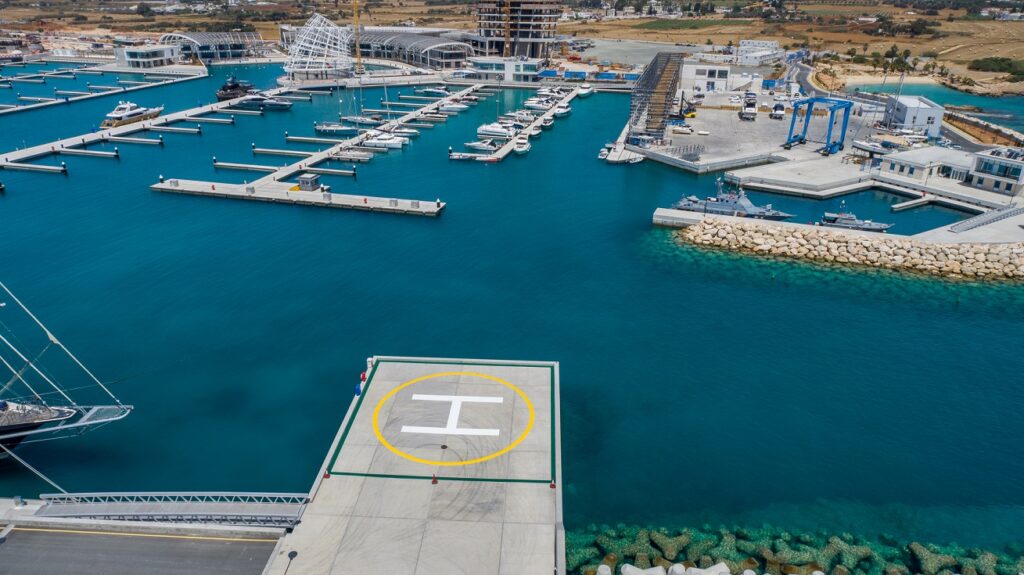 Marina services also include uninterrupted electricity provision, clean water and fuel station, Wi-Fi for all boats and/or fiber optics, fire safety, 24-hour security service, cleaning and laundry services, as well as exclusive crew and passenger service areas. There is also a Chandlery shop for the supply of necessary marine materials and boat accessories, and a specially designed relaxing Crew Lounge, offering catering services and free internet access.
It is also worth noting that Ayia Napa Marina – within the context of smart, safe and green operations – takes all necessary measures to protect the environment, by offering a sewage pump-out at no cost.
The "smart" Ayia Napa Marina offers an integrated maritime tourism experience and is expected to become the No.1 maritime destination for those who love the sea and yachting. Offering a 30% discount on annual berthing contracts for 2021, Ayia Napa Marina gives boat owners the opportunity to benefit from its innovative and modern services.
For more information, visit marinaayianapa.com
Information about Ayia Napa Marina
Ideally located between the beaches of Ayia Thekla and Makronissos, Ayia Napa Marina features 220 spacious luxury apartments in two impressive twisting towers, 35 luxury villas, a marina with significant mooring capacity and world-class yachting facilities for 600 yachts, a boatyard, and a series of select shops and restaurants, offering top class services and amenities for those living in, and visiting, the marina.
For more information visit marinaayianapa.com
For More Information:
Read more here